GALERIE STEPHEN HOFFMAN – FINE ART PHOTOGRAPHY
Originals & Vintages
Meister der klassischen Photographie des 19. und 20. Jahrhunderts
Internationale Modern and Contemporary Photography
Der Galerist Stephen Hoffman arbeitet auf internationaler Ebene mit den im Portfolio der Galerie aufgeführten Photographen persönlich  – oder mit deren Nachlässen direkt – zusammen. Photokunst-Sammler wissen die dadurch garantierte Qualität und Authentizität der limitierten und signierten Abzüge und Ikonen der Photographie zu schätzen. Sie erwerben Gelatin silver prints auf hochwertigem Barytpapier. Faire Preise und die gute Provenienz der Meisterwerke der Photographie kennzeichnen alle in der Münchner Galerie (Prannerstrasse 5 / Münchner Innenstadt) oder auf Kunstmessen ausgestellten Sammler-Photographien. Besuchen Sie die Galerie Stephen Hoffman in der Münchner Innenstadt oder nehmen Sie mit uns Kontakt auf.
Öffnungszeiten: Dienstag bis Freitag 11:00 – 18:00 Uhr / Samstag 11:00 – 14:00 Uhr  / und nach Vereinbarung
Telefon:   +49 (0)89 25540844
Vereinbaren Sie mit uns einen persönlichen Termin:  +49 (0)179 2952711
SNAPShot archive gallery – original photographs from archives of the 20th century
mit Photographen aus dem gesamten Archiv von LIFE
NEU in der Galerie Stephen Hoffman in München
Next Exhibition: 07. Juni – 13. Juli 2019
VERNISSAGE: Donnerstag, 06. Juni 2019, um 18:30 Uhr
"Pride of Africa"
einzigartige, limitierte Original Photographien
Ausstellung: 07. Juni – 13. Juli 2019 – "Pride of Africa – Photographien" von Klaus Tiedge  
Der Bildband von Klaus Tiedge "Pride of Afrika"
mit 75 spektakulären Tierbildern aus Kenya, Botswana und Namibia kann in der Galerie erworben werden.
Vergangene Ausstellungen und Kunstmessen
im Jahr 2018
17. – 21. Oktober 2018 HIGHLIGHTS International Art Fair Munich 2018
14. September – 13. Oktober 2018
Francesco Bosso brachte von seiner Reise nach Hawaii eindringliche Landschaftsphotographien mit.
art KARLSRUHE 2018
Internationale Messe für Klassische Moderne und Gegenwartskunst
22. – 25. Februar 2018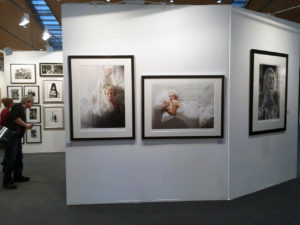 Fotografien im Hintergrund: JOHN DOMINIS , TERRY O´NEILL und , MICHAEL BRENNAN mit  Muhammad Ali und im Vordergrund  Marilyn Monroe von DOUGLAS KIRKLAND und Brigitte Bardot von TERRY O´NEILL – an unserem  Messestand auf der "art KARLSRUHE 2018"
15 Jahre Galerie Stephen Hoffman in München
PHOTOGRAPHEN DER GALERIE
Vergangene Ausstellungen und Kunstmessen
im Jahr 2017
erstmalige Galeriepräsentation aus 50 Jahren Motor Racing Photography  – Formel 1 und Le Mans 
12. Oktober bis 18. November 2017 in der Galerie Stephen Hoffman
HIGHLIGHTS – Internationale Kunstmesse München
25.-29. Oktober 2017 in der Residenz im Herzen Münchens
Hommage an Horst Faas  (1933 Berlin – 2012 München) Photojournalist und Kriegsphotograph
9. September – 7. Oktober 2017 in der Galerie Stephen Hoffman
Jan-Oliver Wenzel "Old Spanish Trails"
18. Mai bis 30. Juni 2017 in der Galerie Stephen Hoffman
Douglas Kirkland "CELEBRITIES"
31. März bis 13. Mai 2017 in der Galerie Stephen Hoffman
art KARLSRUHE 2017
Internationale Messe für Klassische Moderne und Gegenwartskunst
16.02. – 19.02.2017 in Karlsruhe
Vergangene Ausstellungen und Kunstmessen
im Jahr 2016
ELLIOTT ERWITT  Classic Images
14. Oktober – 24. Dezember 2016 in der Galerie Stephen Hoffman
HIGHLIGHTS – Internationale Kunstmesse München
26.-30. Oktober 2016 in der Residenz München
CARA WESTON Carmel, California
09. September – 08. Oktober 2016
Michael Brennan "THE GREATEST"
Original-Photographien der Box-Ikone Muhammad Ali (1942 – 2016)
05. Juli  bis 13. August 2016
Terry O'Neill  "BREAKING STONES 1963-1965
A BAND ON THE BRINK OF SUPERSTARDOM"
Originalphotographien der Rolling Stones
29. April – 04. Juni 2016
Steve McCurry    Iconic Images
18. März bis 23. April 2016
Terry O'Neill   DAVID BOWIE  Special Show 
20. Januar – 20. Februar 2016
Texte: Galerie Stephen Hoffman – Autor: Helga Wäß (HW)