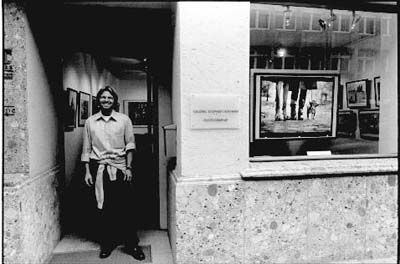 Galerie Stephen Hoffman
Galerie Stephen Hoffman wurde 2002 in der Prannerstrasse in München gegründet.
Als einer der führenden Kunsthändler für Photographie, hat sich Stephen Hoffman auf die Meister der klassischen Photographie des 20. Jh. spezialisiert. Ein weiterer Schwerpunkt seiner Galeriearbeit ist die internationale Modern und Contemporary Photography.
Stephen Hoffman, der in den 90igern in den USA lebte, hatte die Gelegenheit viele Photographen, darunter bedeutende Magnum-Mitglieder, kennenzulernen. Durch die lange Bekanntschaft arbeitet die Galerie Stephen Hoffman  direkt mit den Photographen oder mit den Nachlässen und kann daher seinen Kunde und auch Sammlern für die Qualität der Abzüge, für die Provenienz und für das faire Preisniveau garantieren.
Die Galerie Stephen Hoffman ist mitunter behilflich bei Rahmungen, Schätzungen und Veräußerungen von Photographien aus Privatbesitz oder aus Sammlungen.
scroll down for English version
© Galerie Stephen Hoffman and aforementioned photographers
English version:
Stephen Hoffman established his Munich-based gallery in 2002 specializing exclusively in photography.
His gallery program of solo and group exhibitions concentrates on the masters of classic photography of the 19th and 20th centuries as well as international Modern and Contemporary Photography.
Stephen Hoffman lived in The United States in the 90s, where he met and worked with many of today's well known photographers. He represents photographers directly or works closely with their estates, and is committed to establishing and building relationships with his artists and clients.
Galerie Stephen Hoffman exhibits yearly in the "Munich Highlights International Art Fair," of which the gallery has been a part since the fair's inauguration in 2012.
Our clients know to expect excellent service, and are guaranteed the highest quality for the prints they purchase. Our prices are of fair market value and we can establish good provenance for our photographs when dealing with second market prints.
List of artists in the gallery program
(HW)