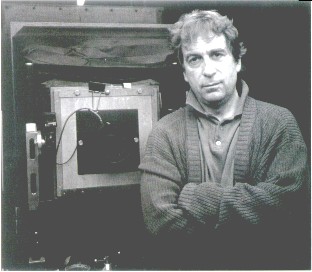 Im Jahr 1965 erhielt William Wegman (*1943 Holyoke, Massachusetts ) den BFA für Malerei- Massachusetts College of Art, Boston 1967 erhielt den MFA für Malerei- University of Illinois Nachdem er an verschiedenen Universitäten der USA lehrte, ging sein Interesse über die Malerei hinaus und er beschäftigte sich fortan intensiver mit der Photographie und dem Medium Video.
Während er in Long Beach, Kalifornien wohnte, schaffte er sich den Weimaraner Man Ray an, mit dem er 12 Jahre lange eine erfolgreiche Zusammenarbeit genoß. 1972 Wegman zieht mit Man Ray nach New York City. Nachdem Man Ray gestorben war, trat unerwartet Fay Ray in sein Leben und es begann eine neue Zusammenarbeit, die durch die Verwendung der legendären 20 x 24 inches Polaroid- Kamera berühmt wurde.
Mit Fay's Nachwuchs 1989 und 1995 wuchs die Weimaraner- Crew, mit der er heute sein Werk erfolgreich fortsetzt. William Wegman lebt und arbeitet mit seiner Familie und seinen Hunden in NYC.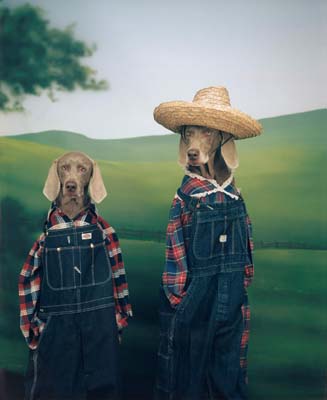 William Wegman (b. 1943 in Holyoke, Massachusetts)
is an artist best known for creating series of compositions involving dogs, primarily his own Weimaraners in various costumes and poses.Wegman reportedly originally intended to pursue a career as a painter. He received a Bachelor of Fine Arts in painting from Massachusetts College of Art in 1965 and a Master of Fine Arts degree in painting from the University of Illinois at Urbana-Champaign in 1967.
While teaching at California State University, Long Beach, he acquired the first and most famous of the dogs he photographed, a Weimaraner he named Man Ray (after the artist and photographer). Man Ray later became so popular that the Village Voice named him "Man of the Year" in 1982. He named a subsequent dog Fay Ray (a play on the name of actress Fay Wray).On January 29, 1992, Wegman appeared on The Tonight Show Starring Johnny Carson and showed a video clip of "Dog Duet," his 1975 short of Man Ray & another dog slowly and mysteriously peering around. Wegman explained that he had created the video by moving a tennis ball around, off-camera, thus capturing the dogs' attention. Wegman's photos are well-respected in the art world, are held in permanent collections of the Hammer Museum, the Los Angeles County Museum of Art, the Montgomery Museum of Fine Arts and the Smithsonian American Art Museum.
His photos and videos have also been a popular success, and have appeared in books, advertisements, films, as well as on television programs like Sesame Street and Saturday Night Live. In 2006, Wegman's work was featured in a retrospective at the Brooklyn Museum, the Smithsonian American Art Museum, the Norton Museum of Art, and the Addison Gallery. The Brooklyn Museum explored 40 years of Wegman's work in all media in the 2006 retrospective William Wegman: Funney/Strange. The exhibition also ran at the Wexner Center for the Arts in 2007.William Wegman lives and works with his family and his dogs in NYC.