Weston Edward (1868-1958)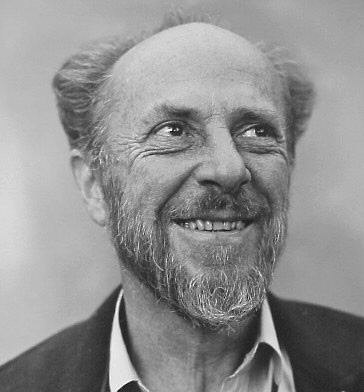 Edward Weston (* 24.März Illinois) besuchte das Illinois College of Photography/ Chicago – während der Ferien Tätigkeit als Retuscheur und Laborassistent in einem Fotostudio in Los Angeles, Rückkehr nach Kalifornien. 1909 Heirat mit Flora Chandler (Söhne Chandler, Brett, Neil, Cole). 1911 eröffnet er ein Porträtstudio in Tropico (heute Glendale, Kalifornien), nebenbei freie, am Piktorialismus geschulte Kamerakunst – Meister der "reinen" Fotographie.
1922 Reise nach Ohio für Aufnahmen des Armco – Stahlwerks, zugleich Wendepunkt und stilistischer Wandel seiner Kunst durch das Bekenntnis zum Modernismus, Bekanntschaft und Ermunterung mit Stieglitz, Sheeler und Strand in NewYork, dann Rückkehr nach Kalifornien.
Text wird unten fortgesetzt (bitte scrollen)
copyright: Weston Family
1923 Mexikoreise mit Modotti (damalige Geliebte und Muse). 1924 beschäftigt er sich intensiv mit dem Close up – haptische Qualität der Bilder. Nach kurzer Rückkehr nach Kalifornien erneuter Mexikoaufenthalt mit Modotti für eine Porträtstudie, endgültige Aufgabe kunstfotographischer Platin-/Palladiumpapiere zugunsten neutraler Bromsilbergelatineware, neben Körperstudien und erhabenen Aktaufnahmen zunehmend Stillleben wie florale Formen, Muscheln oder Steine und Studien zur Oberflächenbeschaffenheit, brillante Schwarz – Weiß – Aufnahmen.
1928 Umzug nach San Francisco. 1932 gemeinsamer Auftritt der Gruppe "f/64" (mit Sonya Noskowiak, Willard van Dyke, Ansel Adams, Cunningham, John Paul Edwards) in San Francisco, Hinwendung zur "Neuen Sachlichkeit". 1937 Empfänger eines Guggenheim –Stipendiums als erster Fotograf. 1946 Retrospektive im Museum of Modern Art, Experimente mit Farbfotographien. 1947 Experimente mit Ektachrome, Hauptfigur in van Dykes Film "The Photographer". Ein Jahr später muß er krankheitshalber die Fotographie aufgeben (Parkins on). 1952 Edition der "Fiftieth Anniversary Portfolio", geprintet von Sohn Brett. 1958 stirbt Erward Weston in Wildcat Hill bei Carmel.
English
Edward Westeon (1886 Born March 24th in Illinois , Highland Park.1902)
First camera. 1906 Journey to California , to his sister; Acquaintance with Flora Chandler, as a portrait photographer hiking through California. 1907- 1911 Study at the Illinois College of Photography/ Chicago; During vacation, work as a retoucher and laboratory assistant in a Los Angeles photo studio; Return to California.1909 Marriage to Flora Chandler (Sons of Chandler are Brett, Neil, Cole). 1911 Opening of a portrait studio in Tropico (today Glendal , California ).
As a sideline activity, free camera work, skilled in pictoralism – Master of pure' photography. 1922 Journey to Ohio for taking photographs of the Armco steelworks and at the same time, a turning point and stylistic change in his work through the commitment which he made to modernism; Acquaintance with and encouragement to Stieglitz, Sheeler and Strand in New York and then a return to California. 1923 Mexico trip mit Modotti (former lover and muse). 1924 Intensive involvement with close up work – haptic quality of the images. 1925 Return to California. 1926 – 1927Another stay in Mexico with Modotti for a portrait study; final task – artistic-photographic platinum/palladium papers in favour of a neutral bromide silver gelatine product; in addition to body studies and embossed photos of nudes increased still life photographs such as floral forms, shells or stones and studies into surface texture, brilliant black and white photographs. 1928 Move to San Francisco.
1929 Through the placement of Richard Neutra; Selection of the American contribution to the Stuttgartexhibition 'Film and Photo togetherwith the coating 1932 Joint exhibition of the 'f/64' group (with Sonya Noskowiak, Willard van Dyke, Ansel Adams, Cunningham, John Paul Edwards) in San Francisco ; Orientation towards 'Neue Sachlichkeit'. 1937 Reciept of a Guggenheim grant – as the first photographer to do so. 1939 Marriage to Charis Wilson. 1946 Retrospective exhibition in the Museum of Modern Art ; Experiments with color photography.1947 Experiments with Ektachrome; Main figure in van Dyke's film 'The Photographer'. 1948 Task of photography related to disease (Parkinson's). 1952 'Fiftieth Anniversary Portfolio' edition, printed by son, Brett. 1958 Death in Wildcat Hill near to Carmel ( California ).
Ausstellungen
13.09. – 12.10.'13 "Edward Weston – Originalphotographien"
EDWARD-WESTON-AUSSTELLUNG zur 25. OpenArt 2013
Gezeigt werden seltene Werke direkt aus dem Nachlass/Besitz der Familie Weston.